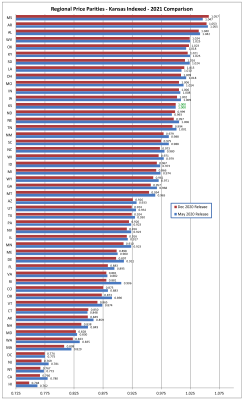 Jan 26 2021
The U.S. Bureau of Economic Analysis released updated Regional Price Parities data in December 2020. The updates refer to economic data collected in 2019. To compare the previous data to the latest release, we've prepared a chart (below). The values are indexed against Kansas cost of living. Values less than 1.0 indicate a cost of living higher than Kansas, thus the income of the parent is reduced (multipled by the presented factor) to account for the higher cost of living. For values greater than 1.0, the income is increased to account for the lower cost of living.
eFamilyTools version 21.1.0 has been released to incorporate this update. Only cases utilizing the Cost of Living Differential (COLD) adjustment will be affected by this update. To update, simply open your worksheet, click the "Recalculate" button, and "Save."
Of note, Kansas ranks as the 13th lowest cost of living state. In a previously published blog article, we showed a chart comparing child support calculations by state. Several midwest states calculate child support much the same. Kansas seems to set itself apart with a much higher child support amount. It may stand to reason that the Kansas child support calculation should more closely align with cost of living. We'll let you decide.
Data compiled by Brian Mull. Reference data: https://www.bea.gov/data/prices-inflation/regional-price-parities-state-and-metro-area